Our membership is drawn largely from those individuals who are inspired to invest in community development initiatives. Read on to learn more about our current areas of focus.
CBAO Seniors Day Program



Officially launched in October, 2016: Caring for someone with early-stage dementia and/or Alzheimer's disease poses significant challenges. Without support, it is difficult to provide the care they deserve and need. The CBAO Seniors Day Program is designed to deliver that support. Operated by COSTI Immigrant Services, this important program will fall under the medical direction of Dr. Giovanni Marotta (pictured at left with Ralph Chiodo, CBAO Chair), one of the few Italian-speaking geriatricians in Toronto. Set in a safe and caring environment, it offers physical and mental exercises, as well as socialization, all of which have been shown to slow the mental decline associated with the ravages of dementia.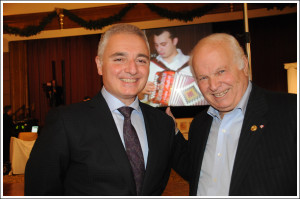 Did you know?
About one in ten people over the age of 65 has Alzheimer's, dementia's most common form.
The rate of incidence rises to more than 50 per cent among those older than 85.
It comes at a tremendous cost to our public health system. Within 20 years, the economic burden of dementia is expected to hit $293 billion per year.
Applications to the program are now being accepted. Click here to download an information brochure, and learn how to enrol a loved one in this program. For program-specific questions, please visit Contact Us to reach Ted Zhang, the program's general manager.
Humber River Hospital



In late 2013, the 12 founding members of the CBAO personally pledged $500,000 to the new Humber River Hospital, which opened its doors on October 18, 2015. This tremendous support was subsequently recognized with a plaque outside the cardiology clinic of what is North America's first fully digital hospital. At just under 20,000 square feet, this clinic is four times larger than the current centre, and showcases two new clinics for heart function and urgent evaluation. Positioned to offer a one-stop referral program, the clinic carries out all testing, diagnosis and treatment.
Culture and Education



A number of events are organized throughout the year by the association for the benefit of its membership. These may highlight issues facing the Italian Canadian community, celebrate the impact of Calabresi here in our province, or foster connections to the homeland. Visit News & Events to learn more.